Lovelace
Classic lace with contemporary pastels, rustic hessian or muted wood.
Available in other colours, with matching items and a variety of formats available.
Scroll down for prices, order info and samples.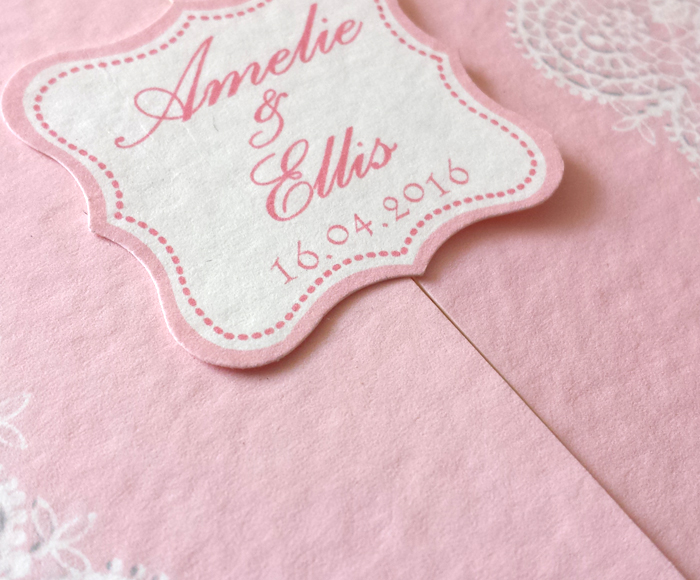 Price List
INVITATIONS & RSVP CARDS
Our invitation designs are available in any of the formats listed – just ask!
INVITATIONS
Pocketfold Invitation (with invite and 3 further inserts) – £4.00
A6 tent or side-folded invitation – £2.75
Folded 14cm square invitation – £2.75
Flat 14cm square invitation – £1.75
A6 gate-folded invitation – £2.75 (selected designs only)
Tri-folded tall, skinny invitation – £3
RSVP CARDS
Flat A6 with envelope – £1.25
or As a postcard to accompany A6 or 14cm square – £1.25
OTHER ITEMS
Other items for before and after the big day.
Save the date, flat A6 with envelope – £1.25
Save the date, bookmark style – £1.25
Save the date, luggage tag style – £1.00
Thank you card, A6 + env – £1.50
ON THE DAY STATIONERY
All of our designs are available as the following on the day items.
Order of service A5 (covers only) – £1.50
Order of service booklet A5 – 4 sides of inserts – £3.00
OR 8 sides of inserts- £4.00
Flat A5 menus – £2.25
Folded A5 booklet menus – £2.75
Table numbers – Square or A5, printed front and back – £2.75
Placecards, trad tent-fold, tag, luggage tags or flat business card
with guest names – £1.50 / without guest names £1.00
A5 tent folded signs,
"Sign our guest book/ info/ help yourself" whatever you need – £5.00
A1 Table planner – £70.00
Top table cards – £5.00
Table planner cards A6 or A5 – £5.00
Post Boxes – £25.00
Post box square card – £5.00
If there is anything else you might like to co-ordinate, then please ask.
How to Order
Ordering your stationery from TICKLED PINK couldn't be easier…
BISH Order a sample of the designs that appeal and if it suits then
email us with what you would like along with your colours and
personalised words.
BASH We'll mock them up and email them over and then send you
some samples in the post.
BOSH Approve your designs, pay your balance and we'll get making
your invites, then all you have to do is wait for your delivery!
See… simples!
Purchase a sample
All samples are priced at £2.50 (includes postage). Let us know which
items and design(s) you would like in the form below and we'll send out
your samples pronto!