About Us
Hi! We are Tom and Nikki, a husband and wife team. We work together from a fun and creative studio nestled above the roof tops of Leicester City Centre, creating wonderful stationery for weddings worldwide!
Tom
Tom thinks he is the brains of the outfit and looks after the business side of things. As well as hand making all of our invites, does ALL the cutting and sticking with a scalpel and trusty safety ruler, he creates the spreadsheets, sorts all the packing (beautifully wrapping all he's made in pink tissue and lots of cardboard,) whilst singing along to BBC Radio 6 Music, regular coffee duties and ensuring we're both home on time to collect the kids!
Nikki
Nikki, is an art school graduate, and has enjoyed 20 years as a stationery designer, creating Christmas, birthday and special occasions cards, working for many high street stores, UK charities and publishers worldwide. You've probably already received one of her creations! As you can probably tell, she is therefore the creative side of the partnership so will be your first port of call for all things design based.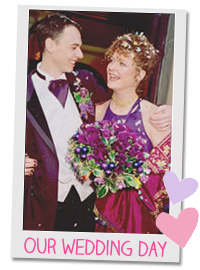 Say Hello
Now it's YOUR TURN to tell US about YOU! Why not drop us a line through our contact page ?
Or to book a consultation (allow 1-2hrs)