Wedding Stationery by Tickled Pink
Who are we?
We are Nikki and Tom, married, business partners and great friends.
We laugh. Lots.
We have a gorgeous (but messy) city centre studio, right, slap bang in the Leicester Lanes historical quarter
in the East Midlands right in the heart of England.
(read more)
what we love
is colour and interesting openings for our stationery;
invitations, save-the-dates, menus, table planners, place cards, table names and numbers and postboxes and so much more.
We LOVE fun, quirky, colourful, contemporary, vintage and stylish stationery, they are meant to be keepsakes.
3 Invitation formats in every range
What we can't do
No designs are bought in 'off the shelf' and just assembled.
That's very important and not what interests us.
All of our ranges are created from our own templates,
such as our A6 gate-fold designs and then our designs are created to fit.
We don't do big bows or stick layered card in foils and flitter.
That's not our thing and plenty of others do it brilliantly,
we just like to draw it all ourselves!!
We don't cut and stick!
Save
Save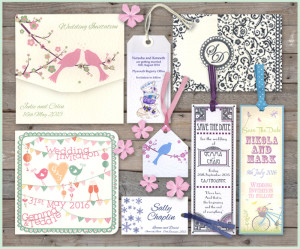 We are
a small family business offering a more friendly service.
Every item of stationery is created by Nikki,
with her many years of experience designing for the
High Street Stationery industry,
then carefully printed in-house, cut, creased, folded and jewelled
by hand by Tom
(you can even watch him at work in a little slideshow below!)
is it just a job?
We have a career where we love 'going to work' and don't get those post-holiday blues about coming back in!
We really enjoy what we do
and hope you too like our beautifully unique stationery with a personal touch,
so check out our large selection of design ranges.
Please do not hesitate
to get in touch if you need any help choosing your
perfect wedding stationery design –
We hope that you will be TICKLED PINK too!
Nikki & Tom x
Tickled Pink Wedding Stationery
Watch Tom make a Pocketfold stationery by hand